Seven Things to Keep in Mind When Planning Your Kitchen Remodel
Planning your Kitchen Remodel can be so overwhelming. There are so many different elements – appliances, sinks, tiles, colors, storage space, lighting. . . I could go on and on. This guide is to help make sure that you aren't looking over any of the important elements.

Put Function First
It's so easy to get carried away with a design that you can completely forget about the utility of the space.  Whether you're a fan of Shaker Cabinetry or own an Eichler, if you don't put the functionality of your kitchen first, you are going to end up hating it, no matter how beautiful it may look. Even worse – you might never use it if it's inefficient and a pain!  Consider which things are used most in the kitchen and design the layout to be efficient and ergonomic. The kitchen work triangle is an important concept to consider. The three points are the three most used areas of the kitchen – the fridge, the sink and the stove.   According to the National Kitchen and Bath Association kitchen specifications,  ideally none of the items in the kitchen triangle should be closer than 4′ from each other or more than 9′ from each other and the total sum of the sides should not be more that 26′.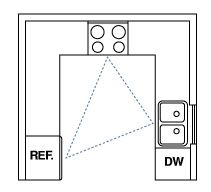 Work Triangle Things to Consider:
Try not to block your walking path between items.  The work triangle should not cut through an island or peninsula by more than 12 inches.
Most kitchens have one sink.  If your kitchen only has one sink it should be kept either across from or between your cooking surface, food preparation area, or refrigerator.
If possible, try to minimize people walking through the triangle.
Also consider where you will keep your bins, utensils and other key appliances.
Don't Forget Your Budget
A kitchen renovation can quickly turn from something quick and cheap to a state-of-the-art facility that will take decades to pay off.  Be realistic about your kitchen budget.  A dream kitchen is a wonderful thing, but it's not worth putting yourself into dire financial straits.   Come up with a budget of what you can afford before you start planning, then tailor your plans according to the budget. Not the other way around! You don't want to get carried away or conned into something that you really can't afford. You can still get a great kitchen, but you just might have to make some more compromises in the process.
Also, if your not planning on staying in your home for more than 5-7 years  its probably a good idea to remodel your kitchen with the materials and colors that will maximize the value of the home when it changes hands.  Bold materials and colors can be exciting and fun but they may actually reduce the value of you home in the mind of any future buyers.
More Storage!

You can never have too much. How many kitchens have you seen with an empty kitchen cupboard? I'm guessing that it's close to zero.  Its wise to plan and maximize for as much storage as possible.   It's a decision that you will never regret.
Pull outs instead of fixed shelves are nice for getting into the back areas of lower cabinets.
Full extention drawers
Lazy Susan in corner cabinets
36″ high upper cabinets.
Deep cabinet above the refrigerator
Pull Out recycling bins under the sink
Bright Lights
Lighting is often an afterthought in a kitchen, but the right lighting can really change a nice kitchen into an opulent kitchen. Not only can the right lighting change the perception of the space, but proper lighting in the darker areas can help to prevent eye strain when you are cooking.  If you're older than fifty it is strongly recommended you have under cabinet lighting installed.
The Appliances Are Part of Your Plan

Many people will design their kitchen and then only think about which appliances they will use and where they will keep them afterwards. Appliances take up a lot of counter top or cupboard space, so it's really not something you can figure out at the end. Consider them as part of your initial plan, so that you can have your kitchen looking good and functional with everything in place.
Planning for your appliances:
Do you have an ice maker line for the refrigerator.
Gas line in place for cooktop
Sink location and enough angle stops under sink
Location, size and noise level of cooktop hood
What Counter Space?
Maximizing counter top  space is an essential part of any kitchen remodel and not having enough will be the bane of your existence. The right kind of material can help make your kitchen look clean and neat, while giving you crucial space for food preparation or entertaining.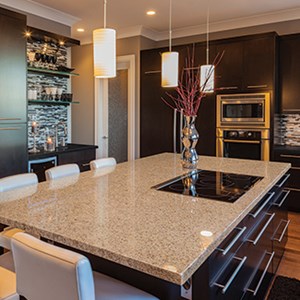 Common Counter Top Trends:
Pre-fabricated granite and quartz counter tops.
Under mount stainless steel sinks
Breakfast bar areas with cantilevered counters
Planning your kitchen remodel?  give Tim Hmelar  at The Kitchen and Bath Company of Palo Alto a call at (650)888-4745 or drop him an email at .